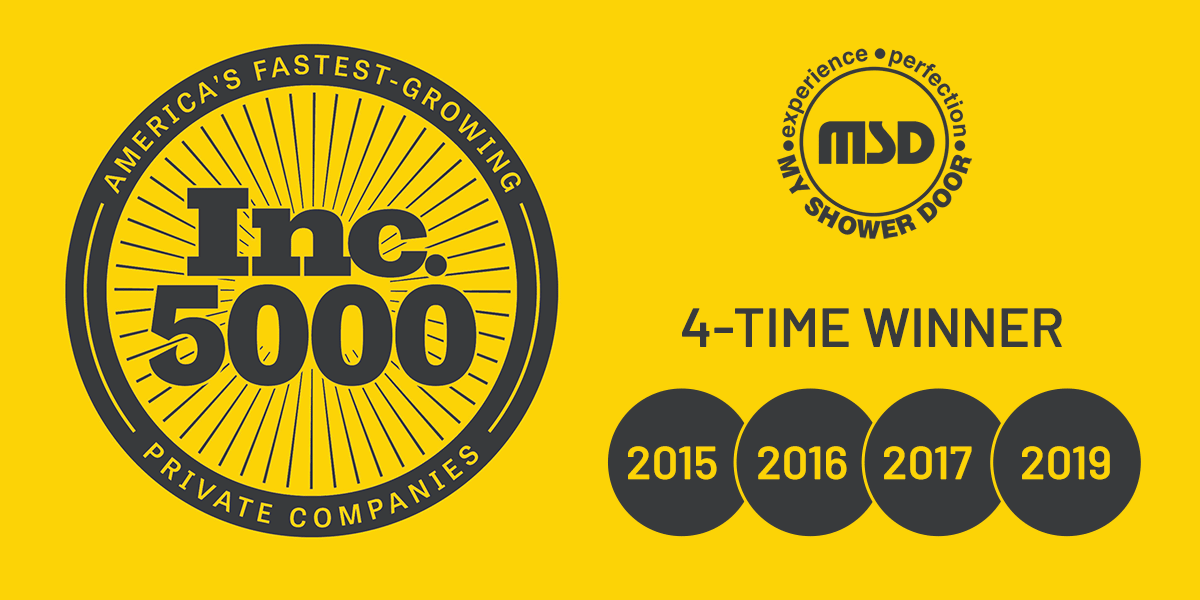 In the United States, there are more than 4,300,000 "Privately Held" companies. Each year INC Magazine ranks the "Top 5,000 Fastest-Growing Private Companies in the United States".
To make that prestigious list a company would be in the top 1/10th of 1 percent of the total number. MY Shower Door / D3 Glass has made that list in FOUR separate years. Such well-known companies as Zappos, Microsoft, Vizio, Chobani, Intuit, and Oracle have been on that same list.
Award-Winner 4 Separate Years
When INC Magazine, one of the country's top business periodicals, announced its annual rankings, they ranked companies that show substantial growth over a three-year period. This shows a number of key indicators… growth, staying power, and trust. Exceptional companies make that list more than once but for a company to make that list FOUR or more times is truly extraordinary.
The first appearance by MY Shower Door / D3 Glass occurred in 2015 and the ranking was #2085. Secondly, in 2016 with a ranking of #2,400. Thirdly, in 2017, MY Shower Door came in at #4212. Most recently, in 2019 MSD returned at #4,187.
As a result, each year that MSD achieved their rankings, the owners, Bill and Donna Daubmann, attended the INC 5,000 Celebration Event where they were able to mingle with other small and large business owners and sit in on round table discussions and share ideas and best practices.
At their first-ever celebration event, Bill and Donna Daubmann (the owners) met Zappos.com entrepreneur Tony Hsieh. Tony gave some incredible insight into taking a business to a multi-million dollar level and how he helped change the culture within Zappos.
The following year, they were able to meet Marcus Lemonis and Robert Herjavec, who both shared insightful tips and comments and answered audience questions concerning business practices.
By year three, Inc 5000 invited Bill and Donna to have a private lunch with INC Magazine Editor in Chief Eric Schurenberg and ten other Entrepreneurs to discuss the future of Entrepreneurism and virtual business practices.
Finally, during their fourth appearance, they met with the founder of Go Daddy, Bob Parsons. Mr. Parsons shared stories about the founding of GoDaddy, his years of military service, and some of his other business ventures. To this day, Bob owns PXG Golf, which is an acronym for Parsons Xtreme Golf.