The Crucial Step: Frameless Shower Door Measurements
Completing Tile Work Before Measuring for a Frameless Shower Enclosure
When it comes to creating a luxurious and functional bathroom, a frameless shower enclosure is often at the top of the wish list for many homeowners. It adds a touch of modern elegance to the space, making it a popular choice for bathroom renovations. However, there's a crucial step that should never be overlooked when you are ready to measure for a frameless shower enclosure: completing all tile work. In this blog post, we will explore the reasons why it is essential to finish all tile work before measuring for a frameless shower enclosure.
1. Precise Measurements are Key
One of the primary reasons to complete tile work before measuring for a frameless shower enclosure is to ensure precise measurements. Frameless enclosures rely heavily on accurate measurements to fit seamlessly into your bathroom. If the tile work is not finished, it can lead to incorrect measurements, resulting in gaps, misalignment, or other aesthetic and functional issues. At MY Shower Door, we do not take final measurements until all tile work is complete.
2. Seamless Integration
A frameless shower enclosure is designed to create a seamless and visually appealing transition between the shower and the rest of the bathroom. When the tile work is complete before measuring, the enclosure can be customized to fit the exact dimensions of the tiled area. This ensures a perfect fit and an elegant, cohesive look that enhances the overall aesthetics of the bathroom.
3. Preventing Water Leakage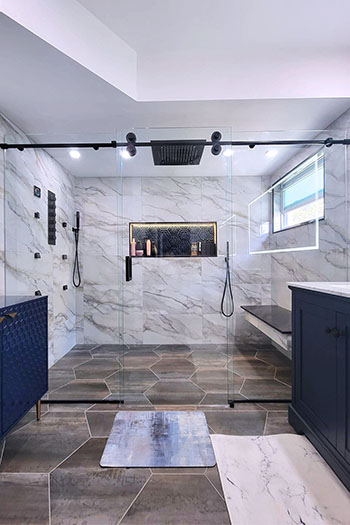 Properly installed tile work serves as a crucial barrier against water leakage. If the tiles are not installed before measuring for the enclosure, it will be nearly impossible to create a watertight seal between the enclosure and the tiles. Water leakage can lead to structural damage, mold growth, and costly repairs. Therefore, completing tile work first helps prevent this potential issue.
4. Avoiding Costly Revisions
Measuring for a frameless shower enclosure without completed tile work can lead to costly revisions and delays in the installation process. When measurements are taken based on unfinished surfaces, there's a high risk that the enclosure will not fit properly. This can result in the need to reorder custom-made glass panels or other components, causing unnecessary expenses and project setbacks.
5. Enhancing Durability
Frameless shower enclosures are an investment in your bathroom's longevity and aesthetic appeal. Moreover, to ensure their durability, it's crucial to have a solid foundation in the form of finished tile work. Properly installed tiles provide the necessary support for the enclosure, preventing issues like sagging or glass misalignment over time.
Conclusion
In the world of bathroom renovations, attention to detail is paramount. When it comes to installing a frameless shower enclosure, completing all tile work before measuring is a vital step that should never be skipped. Precise measurements, seamless integration, water leakage prevention, cost savings, and enhanced durability are just some of the benefits that come from ensuring the tile work is finished before the enclosure installation begins. By prioritizing this essential step, homeowners can enjoy a stunning, functional, and long-lasting frameless shower enclosure that truly elevates their bathroom's design.
---